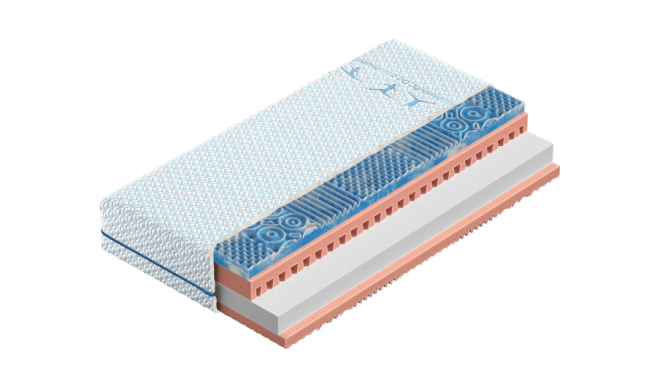 PRO DYNAMIC H3
Quick Overview
The unique components used in the Pro Dynamic H3 mattress effectively increase the regeneration of our body after exercise. The most important role in this combination is played by the innovative Gelax foam, which combines the properties of gel, highly elastic foam and thermoelastic foam (also known as visco). Thanks to this, the result was achieved in the form of excellent support for the body parts important during physical exertion. This, in turn, ensures effective relaxation of muscles and joints. It should be noted that this effect was enhanced by knurling the Gelax foam and obtaining the so-called seven comfort zones.
Another important feature of the Pro Dynamic H3 mattress is the high degree of air circulation – not only thanks to the unique properties of the Gelax foam, but also due to the profile cuts of the other foams included in this product. This affects the proper regulation of body heat given during the night rest after previous training.
Product information:
knurled gelax foam

knurled foam

profiled foam

profiled polyurethane foam with increased flexibility
turquoise zipper of the cover

cover soaked in silk proteins

 

mattress height 20 cm

hardness: H2 / H3
ALTERNATIVE MATTRESS SIZES ARE ALSO AVAILABLE ON CUSTOMER REQUEST.
PLEASE DO NOT HESITATE TO CONTACT US.